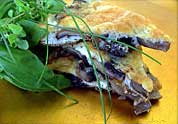 LA CUCINA
The Kitchen, "La Cucina", must be the heart of any good home. A place to exercise the senses, to taste, to touch, to improvise and create, and most importantly, to share and enjoy the fruits of the region.
Umbria is blessed with an unsurpassed selection of fresh local produce. Wonderfully green and golden first pressed olive oils, exceptional wines, a surprisingly sophisticated range of cheeses, from freshly made Mozzarella to carefully aged Pecorino and Parmigiano, and an expansive and colourful selection of organically grown fruit and vegetables.
Add to this list the Umbrian specialities such as fresh Porcini mushrooms, the legendary and magnificent White Truffle and other seasonal fare such as wild hare and boar, along with the delights of freshly made pasta and local breads, and one has, literally, a recipe for enjoyment of gastronomic proportions.
Whether preparing a meal in house, observing one being prepared, or dining out in this region, the simple pleasures of dining well become the focus of each day, and a precious set of memories to take home.