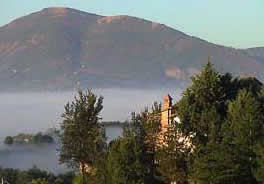 So much more than just a place to stay, La Dolce Villa offers a rich experience in elegant country living. It is a place to indulge the senses, and more importantly to be indulged.
Set in the heart of the region of Umbria, in the historic village of San Benedetto, La Dolce Villa is enchantingly romantic and deliciously detailed in every way.
The unique appeal lies in the villa's eclectic style, it's personality and in it's utter dedication to the fine art of good living.
Your stay at Dolce Villa has such a flexible number of options, it is too complicated to list pricing details on the website. Our policy is to have personal contact with all our clients and adapt the possibilities to perfectly suit their requirements. For example you may wish to be left in private during your entire stay but have a driver to call on when you require it. You may wish to have all your meals prepared and served on the premises by our expert cook, or just an occasional dinner. You can call upon the services of our local wine adviser and partake in a wide number of activities including Italian cookery classes in the villa kitchen, or escorted truffle hunting in the local hills, if you so require.
You will see the range available by clicking on the activities link. The Seasons link gives details of local events depending on the time of year that you are staying.
So be our guests, initially, and have a look around the site. The guided tour will give a description of the layout of the villa and photographs of various rooms as well as the gardens. If you are interested in finding out more, please take a moment to fill in the booking enquiry form and we will contact you, at a time that is suitable to you, to establish your preferences and give you full pricing details.
Whatever your preference we can cater for all your whims and can promise you a completely unique experience at La Dolce Villa, regardless of the time of year that you decide to visit.