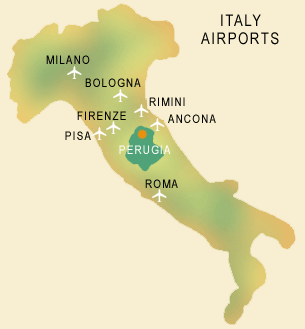 AIRPORTS
Rome or Florence are the most popular points of entry in Italy for visitors to Umbria, however there are a number of other possibilities including Milan, Bologna, Pisa, Ancona, and Perugia's own local airport- St Egidio, from which it is a mere half hour drive to reach La Dolce Villa.
For guests arriving by private aircraft there is a wider choice. Further information on these options can be provided as necessary.
Whatever the chosen port of entry, personalised limousine transfers can be arranged for incoming and departing guests, as well as a driver during their stay. A selection of vehicles, including a luxury minivan, are available according to guests' requirements.
Approximate distances from La Dolce Villa:
Ancona: 190 km (120 miles)
Bologna: 240 km (150 miles)
Florence: 150 km (100 miles)
Milan: 460 km (290 miles)
Pisa: 230 km (150 miles)
Rimini: 200 km (120 miles)
Rome: 180 km (110 miles)