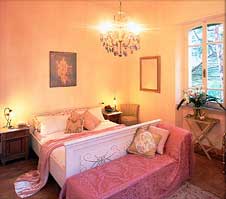 FIRST FLOOR
Upstairs, the first floor comprises two guest bedrooms. The master bedroom is perhaps the most romantic room in the villa, French pink walls are accented by pané velvet drapes and cream bed linens. A large hand-painted wardrobe extends down one side, and an upholstered chaise sits at the end of the queen sized bed.
Across the landing is a further bedroom featuring two single beds and a daybed that can be utilised as a further bed if required. Exotic silk cushions, potted palms, and a chandelier complement warm rustic wooden furnishings and ochre walls.
All bedrooms feature finest Egyptian cotton bed linen. A third bathroom with shower is located at the top of the stairs.