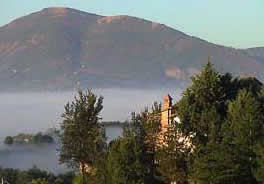 AL FRESCO
Terracotta steps lead down from the conservatory to the garden and outdoor dining terrace. At the base of these steps the storage area, firewood room, and laundry are located. The laundry features a commodious washing machine, clothes dryer, and basin for hand washing.
Manicured minted lawns are to be found to the rear of the villa, and below the umbrella pines in front of the Salon. Lawns are edged with lavender beds and each of the umbrella pines is entwined with winter jasmine and hybrid clematis for colour and scent throughout the warmer months.
The tiled terrace is shaded by a large conifer, providing shade for the alfresco dining area and barbeque. Bordering the terrace is a small tropical garden with a central fountain. In the spring scented blooms grow amidst the rosemary, thyme, sage, basil and marjoram.